Hey all, Misty Here!
Whew! The second quarter release at work has been a veritable hurricane--especially since I am involved in the main vendor integration effort. In the last four weeks, I was lucky to leave before six in the evening most days. Needless to say, I have not had much brain power in the evenings, but that should lessen now that the program has gone gold and ships this weekend. After that, I took a whole week off (gasp!) to recover before the third quarter release effort starts. I would like to catch up on stories that week, but I should also take some time to not stress about anything. This whole 'being human and still writing' thing is a balance I am still working on even a year out from when I had my crash.
Speaking of stress--I kid! I kid!--I owe [Patreon] two stories: "a witch getting merged with her familiar"--which you may have already seen a preview of--and "guy tries new VR system at a Halloween party." I plan on hitting the witch story this week sometime and will try to keep it from also going past eight thousand words so that I can move onto other things while I have the time to do so. I want to put up a couple of polls on Patreon to decide a couple of the fiddly bits; although I make no promises. -_-;;
At the same time, I am still working on the scenario for the other story. I think I might play with the idea of him stepping off to the side, trying the goggles, and having it seem like they transported him to another place entirely. Once there, he is changed by whatever he encounters and is then snapped out of the simulation by a friend. Over the following days, the ways he changed in the simulation begin to manifest. I am not sure of the 'why' just yet, and that it the issue. I do know I want to avoid any overt divine, daemonic, or faerie influence as the catalyst. Maybe I should bother [Leaf~] about writing something plant-based...
In other release news, recent stories you might have missed (both mine and others')
On other fronts, I have made a handful of changes to MistyFFiction.com. Most of them are invisible to you all, but I do want to mention a few of them.
First off, I have padded and justified story text to make the display just a bit more like an e-reader. This should make reading on very wide screens a little easier as well. Second, I added a feature to give you an idea about how long a story should take to read. The estimation is based on three hundred words per minute, so your personal reading time may vary. The preview tiles should also have that read time estimation.
Finally, and this is a big one, I have added a table with most of the relevant meta for a story to the bottom of the page so that browsing for similar stories is easier. The current taxonomies are Genre, Transformation and Expansion Kinks, Other Kinks, and Tropes. I am working on getting the meta on stories better organized. There are a lot where I only have a couple of tags.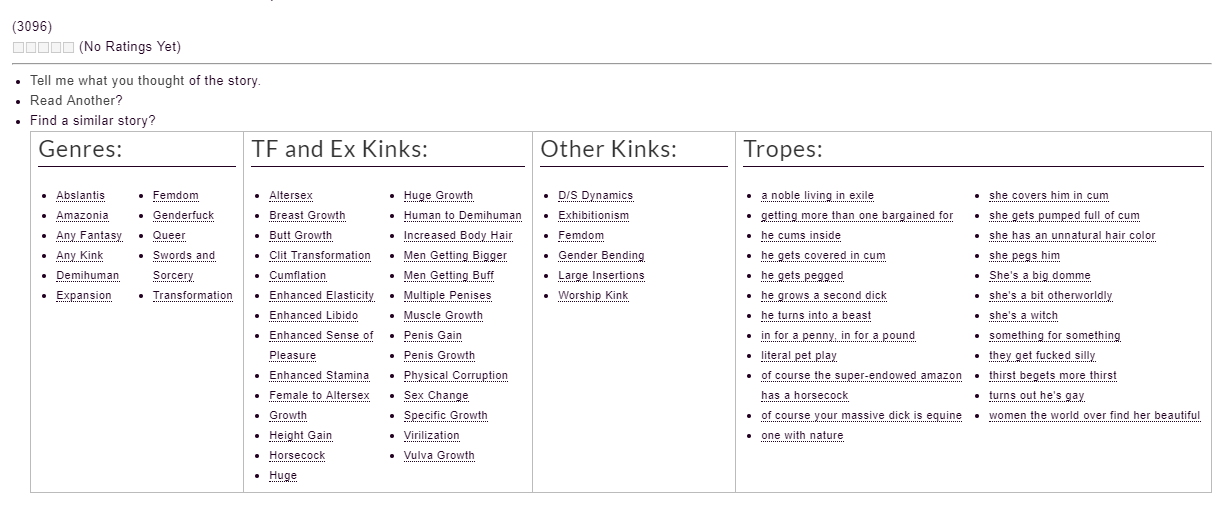 Anyway, as always, you can reach me on twitter @mistyfdfa or ask me things on curiouscat. If you want, stop by the Discord to check out WIP teases and more, or support me on Patreon if you like my stories.
Until next time... be excellent to each other!